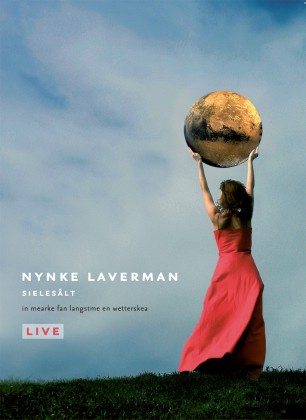 When she was fifteen, Nynke heard the Portuguese fado for the first time. Its melancholy and power immediately touched her, but it seemed reserved for the born Portuguese to perform this genre convincingly.
A few years later she got the idea to use her mother tongue and suddenly the penny dropped. The Frisian Fado was born. She translated seven poems by Jan Jacob Slauerhoff into Frisian, on fado compositions by the Portuguese composer/guitarist Custódio Castelo. Between the songs she wove the fairy tale of the Ondinen ('Der wie ris'- There was once) to music by Waldemar Bastos.
Sielesâlt became a great success and the album turned gold. In November 2004 Omrop Fryslân made a registration of the performance that was broadcast on TV. This registration was never published before, but for the real lover it is finally available!
With Dutch subtitles.
Tracklisting:
1. Intro Primavera
2. Primavera
3. De iensumen
4. Der wie ris I
5. De frou oan it finster
6. Loucura
7. Vida triste
8. Der wie ris II
9. De ûntdekker
10. Angústia
11. Barco negro
12. Der wie ris III
13. Foar de fiere prins
14. Slottekst
15. O enjeitado